Kana Omori is an international marimbist and
percussionist from Japan.
Kana has been awarded several prizes,
including First Prize at the International Music Competition
in Kobe, Japan in 2006 and the First Prize andAbsolute Prize
at the International Percussion Competition in Italy,
in 2010, where she was also awarded a special prize from jury member N. J. Zivkovic.
In 2011, she was awarded the Cultural Prize of the City of Kyoto.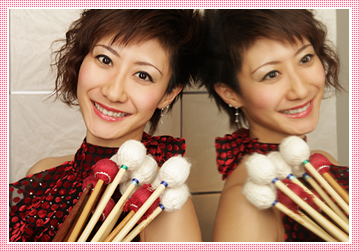 Kana has performed as a marimba soloist with many orchestras throughout Japan and has appeared on several Japanese television and radio broadcasts.
Having released five albums of marimba music, "Ju Te Veux", "Capriccio Grazioso", "Siguiriya Gitana", "Due KAtriNA" and "cafe de KANA".
Kana is always interested in performing, recording and premiering new works written for her.
She has also published a collection of essays Meine Traume (My Dreams) and many books of her arrangements, include "Masterpieces of Classical Music on Marimba".
Kana's arrangements are published by Edition Svitzer.

 Kana has given recitals, master classes and clinics around Europe, the USA, Japan, Australia, and Asia. She was a member of the jury for the final round of The Japan Classical Music Competition, and recently performed at PASIC 2018. She is a member of faculty and jury of The Marimbafest Festival and Competition in Australia.

Kana completed both her Masters of Music and graduate studies at the Osaka College of Music.
Additionally, Ms. Omori completed a Masters of Music at the University of Music and Performing Arts in Munich, Germany.

Kana is an international artist of Adams Percussion Encore Mallets, Inc. and Sabian Cymbals.
Kana has her own signature line of mallets "Kana Omori Signature Mallets Series" with Encore Mallets, Inc.
Fall Creek Marimbas designed a special glockenspiel model named after Kana Omori - the "KANA-Glock".